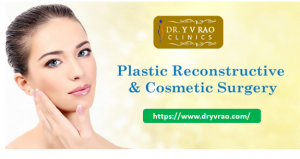 Description
Best cosmetic and plastic surgeon in Hyderabad
Having flawless skin, perfect facial features and impressive persona is the dream of all. Both men and women crave to look good and have a remarkable personality. It plays a vital role in both the professional and personal lives of people and their success. However, only a few people are gifted with them.
Sometimes tragic incidents in life, trauma or accidents also lead to bringing certain defects like burns, scars, and marks. Some people are born with physical abnormalities as well. If you are one of them and not satisfied with how you look, medical interventions can help you get the desired appearance.
Today medical science has made a lot of progress. The advanced techniques and modern equipment have made everything achievable. They have helped people not only to combat major diseases but also overcome issues like burn repairs, congenital defects, facial rejuvenation, body contouring and much more. You can find some of the best cosmetic and plastic surgeon in Hyderabad who are highly specialized and expert in endowing the fruitful results.
While cosmetic surgery emphasizes mainly on enhancing and improving the appearance of the patient, plastic surgery accentuates reconstruction of body defects that may occur due to accidents, birth disorder, burns, and trauma. Some of the major issues with which they deal are:
Cosmetic Surgery in Hyderabad
Facial contouring- Enhancement of chin and cheeks, reshaping the nose (Rhinoplasty)
Facial rejuvenation- Improving the facial features- facelift, neck lift, brow lift, eyelid lift
Skin rejuvenation- Filler treatments, Botox, skin resurfacing with laser
Body contouring- Liposuction, tummy tuck
Other than these, cosmetic surgery also deals with breast enhancement that may include lifting, augmenting, reducing. Moreover, it can also work on the condition like Gynecomastia where male develops swollen breasts.
Plastic Surgery
Birth abnormalities like cleft lips, webbed fingers, birthmarks
Damaged parts of the body due to cancerous tissue removals like face or breasts
Burn repair surgery
Scar revision surgery
Lower extremity reconstruction
Apart from these, it also includes dimple creation, mole removal, ear lobe repair, liposuction, thigh lift and much more.
Although cosmetic surgery and plastic surgery are different, both of them work on the repairing, reconstruction, and restoration of different parts of the body. They help in improving the facial and body features and appearance as a whole.
Since cosmetic and plastic surgeries are highly specialized techniques, the requirement of a well-qualified and proficient surgeon becomes a must. You should not rely on any random surgeon to operate the deformities as it may do more harm than help. You might also end up risking your life. One mistake in the operation theatre could lead to ruining the entire surgery and wasting your time, money and efforts.
This is the reason why it is highly important to find the Best cosmetic surgeon in Hyderabad. Those who have a deeper insight into the field and have a good experience can only help in getting you a whole new and improved appearance.
In general, both cosmetic and plastic surgeries are safe and bring lasting and dramatic changes in personality. However, to double sure the safety, you must consult the surgeon about your medical history in advance. It will help in ruling out the chances of any complications. A good surgeon will tell you in detail about the entire procedure and the ways you can get the benefits.
So, if you want to get rid of the physical deformities, cosmetic and plastic surgeries will help. Make sure it is done only under the guidance of the best cosmetic and plastic surgeon to maximize the results.